PLEASE NOTE
The publications below, unless otherwise indicated, are of the authorship of Angel Enrique Pacheco, Ph.D., and are presented to you as a means to enrich, not substitute, any psychotherapeutic mental health process you may be participating in.
The links to these publications open in a new page images, documents, or presentations, while keeping open the main Publications page. To properly view the images, you may have to zoom-in on the image by clicking on the image itself, and then on the icon which appears.
To return to the main Publications page you may simply close the new page, and/or click
Alt + Tab in your keyboard.
MS PowerPoint Presentations:
After the presentation opens, click on the image to advance to the next slide. Other options available by clicking on the right-hand mouse button. To close the presentation and return to the previous window, click Alt + F4.
Presentaciones en MS PowerPoint:
Luego de que la presentación abra, haga clic en la imagen para avanzar a la siguiente lámina. Otras opciones disponibles haciendo clic en el botón derecho del mouse. Para cerrar la presentación y regresar a la ventana anterior, oprima las teclas Alt + F4.
Children/Families - Niños/Familias
Evaluación Psicométrica del Desarrollo Infantil de 0 a 6 Años
Falta de Atención e Hiperactividad en los Niños y Niñas
Los Trastornos de la Comunicación, Parte I
Los Trastornos de la Comunicación, Parte II
Los Trastornos Psicopatológicos en los Niños
Couples/Sexuality - Parejas/Sexualidad
El Disfrute de la Sexualidad con Su Pareja
La Comunicación en la Pareja
La Homosexualidad
Problemas Sexuales en el Hombre
Problemas Sexuales en la Mujer
Psychology/Personality - Psicología/Personalidad
Cápsulas Informativas del Saber Psicológico
Etica Profesional en Psicología
La Psicometría y los Tests Psicológicos
Los Trastornos de la Personalidad
Disorders - Trastornos
El Alcoholismo y el Tabaquismo
La Depresión
La Esquizofrenia, Parte I
Los Trastornos de la Alimentación
Los Trastornos Disociativos ><((((º>¸.·´¯`·.¸REVISED ::::: REVISADO¸.·´¯`·.¸<º))))><
Los Trastornos en el Control de los Impulsos
Mi Lucha o Cómo Aprender a Controlar Mi Peso
Trastornos Relacionados con el Alcohol, Parte I ><((((º>¸.·´¯`·.¸NEW ::::: NUEVO¸.·´¯`·.¸<º))))><
Trastornos Relacionados con el Alcohol, Parte II ><((((º>¸.·´¯`·.¸NEW ::::: NUEVO¸.·´¯`·.¸<º))))><
Trastornos Relacionados con el Alcohol, Parte III ><((((º>¸.·´¯`·.¸NEW ::::: NUEVO¸.·´¯`·.¸<º))))><
Trastornos Relacionados con la Nicotina ><((((º>¸.·´¯`·.¸NEW ::::: NUEVO¸.·´¯`·.¸<º))))><

Scientific Book Chapters:
Capítulos en Libros Científicos:
Articles in Scientific Journals:
Artículos en Revistas Científicas:
Dr. Salvador Amable Iglesias Baehr - Obituario
Flujograma y Tareas en el Proceso de Intervención Clínica
Muerte y Resurrección de la Lic. María Pérez - Un Análisis Psicológico
Relajación Muscular Progresiva
Informative Articles:
Artículos Informativos:
Articles in Magazines:
Artículos en Revistas:
Consejos Prácticos para Mejorar la Conducta de Su Niño o Niña
Criterios Médicos para Consultar o Referir al Psicólogo Clínico
El Stress y la Relajación Muscular
Evaluación Psicométrica del Desarrollo Infantil de 0 a 6 Años de Edad
Lo que Debe Saber Acerca del Tratamiento Psicológico
Programa para el Control de la Enuresis Nocturna ©
Servicios Disponibles en Psicología Clínica
Articles in Newspapers:
Artículos en Periódicos:
La Educación Universitaria en el Nuevo Milenio - Un Reto
Flowcharts:
Clinical Intervention Process Flowchart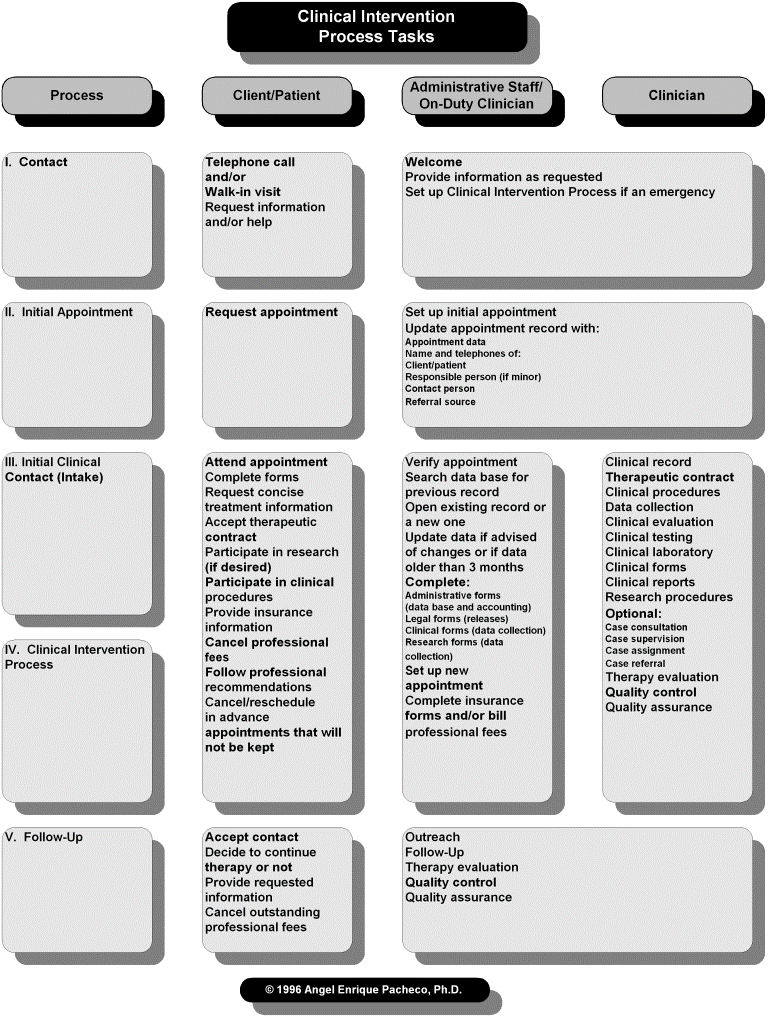 Clinical Intervention Process Tasks
Flujogramas:
Flujograma del Proceso de Intervención Clínica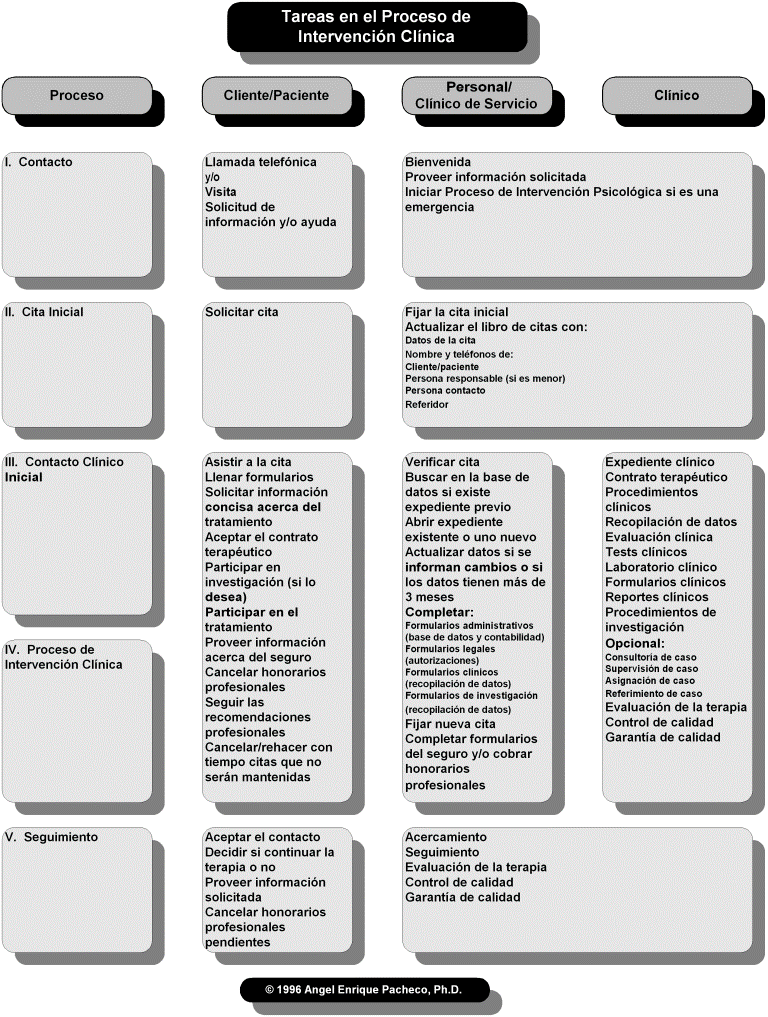 Tareas en el Proceso de Intervención Clínica
><((((º>¸.·´¯`·.¸¸.·´¯`·.¸<º))))><